30 November 2019 20:30
This text has been translated using machine translation. Possible incorrect translation.
About the film: Princess and beggar woman. Serial 2009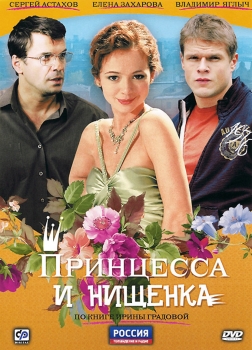 ... I recommend to see ...
Beautiful film-tale about how important it is to find exactly your soul mate. And then the woman loves and is loved.
8 episodes
Language: Russian
Actors: Elena Zakharova (Елена Захарова), Vladimir Yaglych (Владимир Яглыч) and Sergey Astakhov (Сергей Астахов)
Description of the series:
The comedy melodrama of director Stanislav Dremov ("The Shores of My Dreams", "Damned Paradise 2"), based on the novel of the same name by Irina Gradova. The main roles in the series were played by actors Elena Zakharova, Vladimir Yaglych and Sergey Astakhov. In the big city there are two young women who are like two drops of water, but at the same time completely different in character. Capricious Inga lives in a luxurious country house with a husband-businessman, owns her own restaurant, plays a romance on the side and ... suffers from boredom. Modest Alyona is trying to survive in a dilapidated communal apartment, to graduate from the institute and at the same time she does not tire of taking care of everyone around. True, there is no one to take care of the girl herself: her husband Dima prefers to lie on the sofa or play computer games all day. Inga and Alena are used to going to different places and could never meet if it were not for one incident ... Both of them will come to the hospital: only Alena will find herself in an elite private clinic, and Inga will be in the corridor of a usual urban medical institution. It seems that fate has finally decided to take advantage of the amazing similarity of girls and change their places for a while.
Trailer. "Princess and beggar woman". TV channel TVRus
Movie Link - YouTube - All Series
A note on the site "ABCD Web Design" - from: Alice